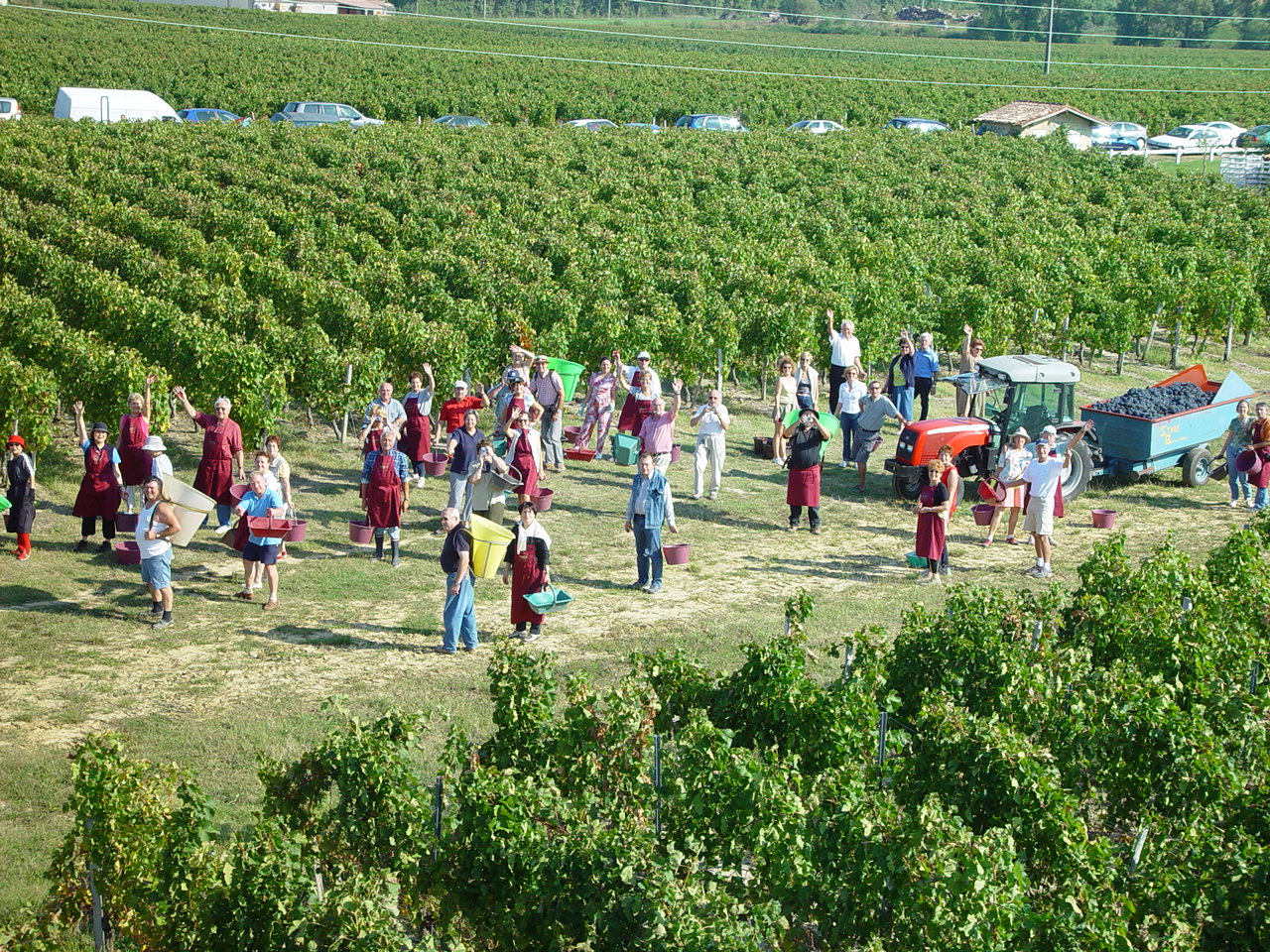 SHARE A UNIQUE EXPERIENCE
BECOME A BORDEAUX WINEMAKER BY PRODUCING AN ORGANIC VINTAGE IN YOUR NAME!
A WINE 100% PLEASURE
What wine lover has not dreamed one day of planting his own vines and producing his own wine?
Far from a utopia, this idea can quickly become reality. And this, even if you live in town.
How ?
Thanks to the vineyard rental offered by Château Fougas, leader of the Côtes de Bourg. It is the opportunity to live and share a unique experience, in the heart of a Terroir of excellence.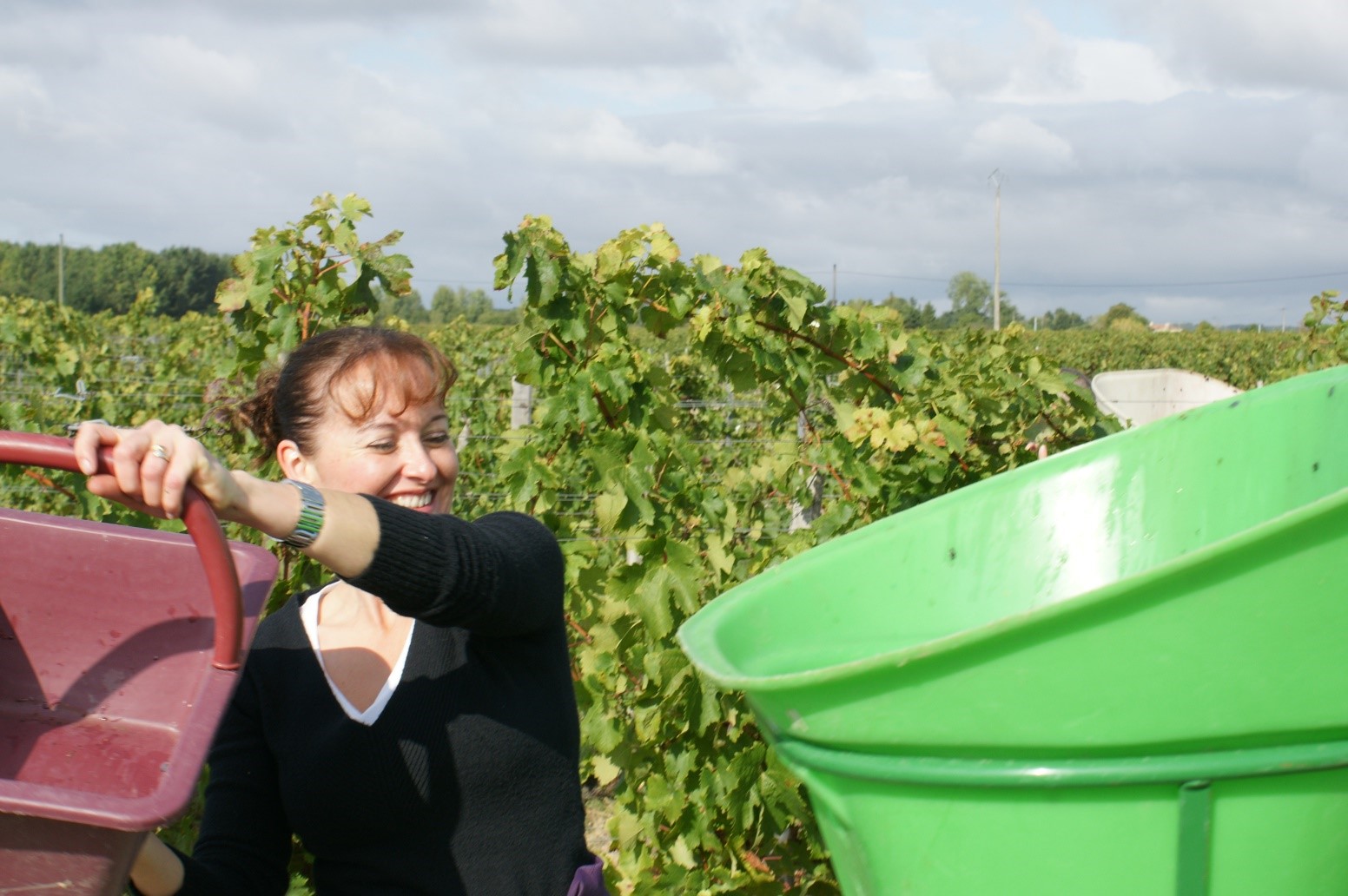 THE RENTAL OF VINEYARDS…
A fun and friendly experience that you will love
1- You choose among our three wines Château Fougas Organic, Château Fougas Maldoror and Château Fougas Forces de Vie the one that suits you. You will then receive your Title of Property and your Diploma of Winegrower.
2- You participate, with the winemaker, in the elaboration of your vintage from the creation of your wine in the vineyard to its bottling.
3 - You are in the vineyard... at home! You are welcome at any time at Château Fougas, to visit your vineyards and enjoy a tasting with your friends.
4- You are informed of the evolution of your vintage (until the release of your bottles) thanks to a dedicated newsletter that is sent to you every month.
5- You take part in the harvest day (organized on a Saturday, usually in the second half of September) during which you are invited to a convivial meal gathering the tenants of the vines. This is an opportunity for you to verify the high quality of the grapes that will give birth to your vintage and to taste the wines of Château Fougas.
Once your bottles are ready and marked with your name, you can, according to your wishes, come and pick them up at the Château or have them shipped to you. The rental ensures you, for each vintage, a number of bottles fixed in advance, whatever the climatic hazards.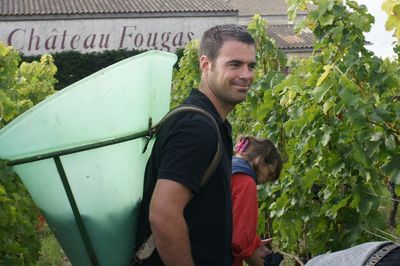 To become a tenant of vineyards at Château Fougas is to participate in a real eco-responsible human adventure. Because here, respect for the environment and the consumer is part of the very identity of the Château Fougas. Therefore, since 2010, the wines are made organically and biodynamically and why particular attention is given to the preservation of biodiversity.
"Since 2010, Château Fougas is certified organic and biodynamic"
5 GOOD REASONS TO ENJOY RENTING
1 YOU LIVE A UNIQUE AND EXCITING ADVENTURE
You live day after day the birth of your wine, from the vine to its tasting at your table. Close to the winemaker, you will have an exceptional and warm relationship with him and have access to the secrets of his know-how.

2 YOU TASTE YOUR OWN WINE
Your bottles are personalized with your name... At home, with your family and friends, you taste a renowned, mineral, healthy, organic and biodynamic wine... YOURS!
3 YOU SHARE A REAL MOMENT OF CONVIVIALITY
In a festive atmosphere typical of the traditional conviviality of wine, you will meet the other tenants on the occasion of the harvest and its closing meal "la Gerbaude", to which you are invited for free (with a person of your choice).
4 YOU MAKE THE CHOICE OF PROXIMITY
The wine that you will taste at your table goes directly from the vineyard to your cellar without any other intermediary. You know exactly how it was born and the care taken in its elaboration.
5 YOU BENEFIT FROM ADVANTAGEOUS TARIFF CONDITIONS
The vineyard rental at Château Fougas offers you a set of original services at a price defying any competition.
"Another discovery not to be missed! This biodynamic Bordeaux is an absolute delight. It is seductive and we're carried away by its beautiful substance which produces an extremely elegant texture."
Le Monde (Le Monde des vins)
«THEY HAVE THE LOVE OF WINE»
"We have been renting vines here for 15 years. However, this is only the second time we have come for the harvest. But now that I am retired, we will come more regularly. We don't have any more constraints, so we'll take advantage of it. Especially since this day was very convivial. This morning, we met some people at the breakfast table of the guest house where we are staying. At noon, we met them again at the Gerbaude table of the Château Fougas (editor's note: understand the party that takes place at the end of the harvest). These are good memories that we are building."
Alain R. and his wife came from the Gers to participate in the harvest of Château Fougas. He likes to taste and share a good wine.
"I LIKE THE ATMOSPHERE HERE"
"I discovered the concept of renting vineyards in 1998, in the pages of a weekly magazine, and I signed up a few months later, without really knowing where I was going. During the summer of 1999, I took advantage of the vacations to go to the Château and talked a little with Mr. and Mrs. Bechet, the owners. I knew right away that I had made the right choice. I love the atmosphere during the harvest. Now I always have a quality wine at home. Not to mention that when it comes to giving a bottle to friends, having one with my name on it is something else! When I open a bottle of my wine, I enjoy it. And I know that it was made with love, with respect of nature.
André LB has been renting vines at Château Fougas since 1999. He has already participated in about fifteen harvests. Today he still makes the trip from Brest with his wife.