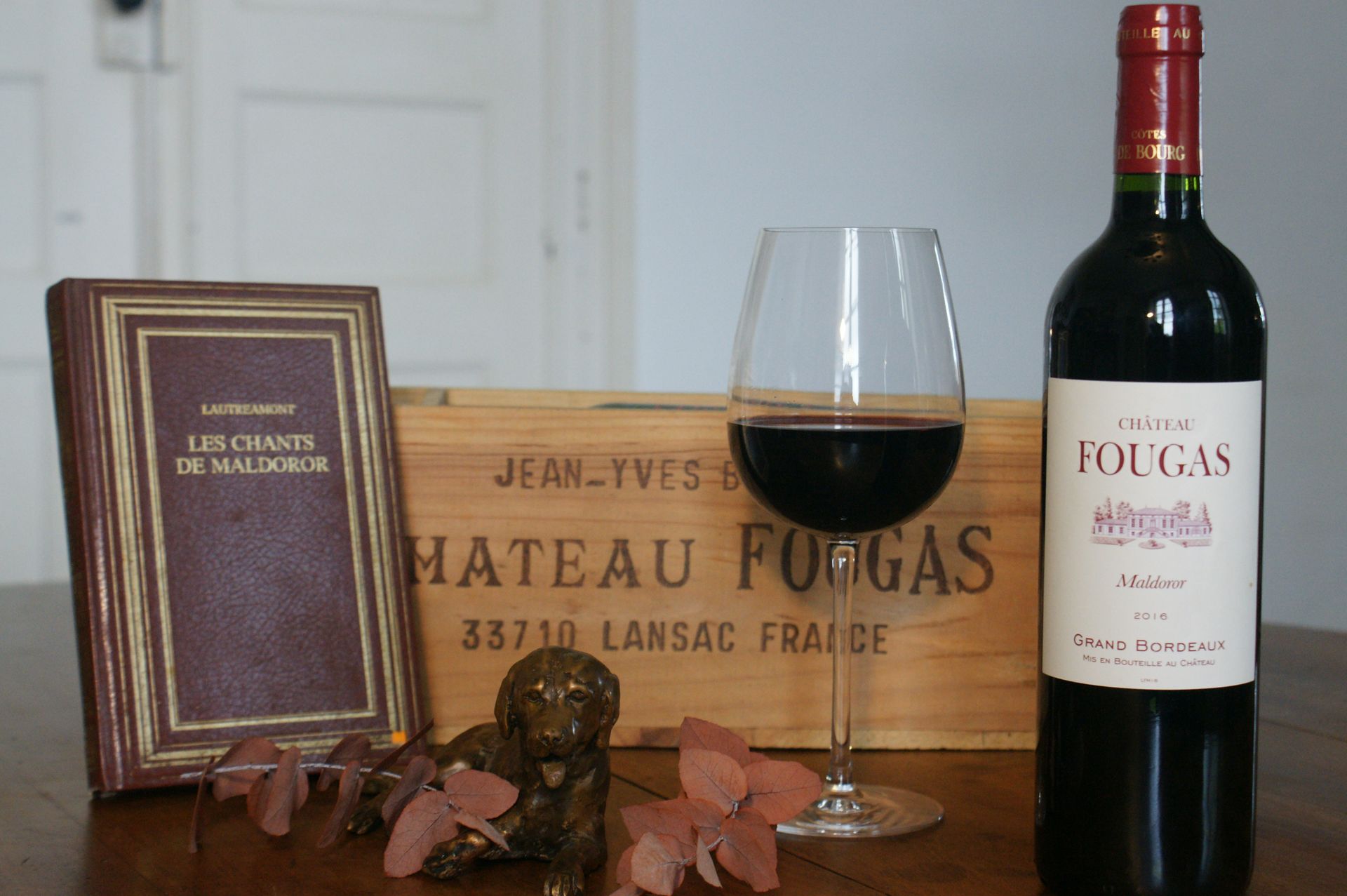 Château Fougas Maldoror
Grown on vineyards located on clay-gravel colluvium over a bedrock of Fronsac molasses the vineyard's iconic soil type Fougas Maldoror's finesse and refined tannins make it the appellation's flagship wine.
Varietal blend:
75% Merlot
25% Cabernet-Sauvignon
18 months' ageing in barrels
Ageing potential : 10 to 15 years
Medals and pressbook
Château Fougas Maldoror 2022
Tastings


Score 91-92


« Medium-bodied with fruity character. Creamy and ripe with velvety tannins. Structured and lengthy.»


James Suckling - Primeurs 2023




Score 93-94
« Biodynamic cultivation for Fougas Maldoror. A lot of finesse and freshness in the bouquet of Fougas Maldoror. Inviting fruity and spicy notes complemented by mineral notes. The wine is creamy, silky and carried by compact tannins with very fine grains. We feel the calcareous freshness through chalky notes and energizing salinity! A brilliant wine to discover at all costs. 2027-2040 »
Tasted on 07.04.2023 by Yves Beck


Score 89
« The 2022 Fougas Maldoror is austere and a bit oaky on the nose. but the medium to full bodied is better, exhibiting refined tannins and an enveloping core of fruit. l'd expect this to show better in bottle. »
Tasted on 28.04.2023 by Robert Parker Wine Advocat


Score 88
« The 2022 Maldoror is a huge, bombastic wine. Ripe red-toned fruit, spice, lavender, licorice and mocha are all dialed up to the maximum. There is some toughness in the tannin that needs to be addressed, however. »
VINOUS – Tasted by Antonio Galloni - April 2023


Note 90-92
« Ripe black cherries, chalky minerality, blueberries, and spring flowers emerge from the 2022 Château Fougas Maldoror, a medium-bodied, elegant Côtes de Bourg based on 75% Merlot and 25% Cabernet Franc. The balance is spot-on, and it has terrific purity as well as ripe, integrated tannins. »
Tasted by JEB DUNNUCK Primeur 2023

Château Fougas Maldoror 2021
Medals :

Silver Medal of Concours de Bordeaux des vins d'Aquitaine 2022

Silver Medal of

Concours Expression des Vignerons Bio Nouvelle-Aquitaine 2022
Tastings

Primeurs 2022 - Score 91-92 - Bettane + Desseauve
Primeurs - 11.04.2022,

Score 90-92/100

par

Yves BECK
Château Fougas Maldoror 2020
Gold Medal :

Médaille d'Or Concours Expression Bio des vins d'Aquitaine 2021
Score 92




FR

"Superbe expression d'un Côtes de Bourg haut en couleur, d'une densité de matière enivrante. Une puissance contenue par des tannins stylisés. Un vin sombre et racé pour les prochaines années."



EN

"Superb expression of a colorful Côtes de Bourg, with a sensual density of substance. A power contained by stylized tannins. A dark and racy wine for the next few years."


La Revue des Vins de France - July/August 2023

Score 93
FR "Le millésime 2020 révèle avec une grande maîtrise le terroir des Côtes de Bourg. De gourmandes notes de cerise, de mûre et de fraises écrasées composent un bouquet savoureux complété d'une touche torréfiée délicate et très élégante. L'énergie du vin s'expose dans un tanin droit, franc, vibrant, qui encadre une bouche très raffinée, évoquant la violette et associée à une saveur réglissée. La finale est très racée."

EN "The 2020 vintage reveals with great mastery the terroir of the Côtes de Bourg. Gourmet notes of cherry, blackberry and crushed strawberries make up a tasty bouquet complemented by a delicate and very elegant roasted touch. The energy of the wine is exposed in a straight, frank, vibrant tannin, which frames a very refined mouth, evoking violet and associated with a liquorice flavor. The finish is very racy."
La Revue des vins de France by Karine Valentin
Score 92-93


A full-bodied red with blackberry, chocolate and some hazelnut. It's generous and extremely well made for this appellation. So well crafted ! From biodynamically grown grapes. Demeter certification.

James Sucking Report 21/05/21-www. jamessuckling.com- Primeur
Score 90-92
Bouquet marked by notes of red berries and spices. It is inviting and of good intensity. On the palate, the wine is creamy, elegant and well supported by its tannins. The latter slowly reveal themselves and impart fullness. A balanced and fruity wine that has plenty to spend time in the cellar. I think he can still gain flavor expression. Juicy and fruity finish. 2025-2035.
Yves Beck - Report 08/04/2021-- www.yvesbeck.wine – Primeur
Score 92-93
A wine full of energy and fiery, vinous, powerful, full, irrigated with a beautiful vitality that makes it vibrant and tasty. The attack is creamy, on a nice black fruit coulis. The tannins are firm, finely grainy, the finish is very fresh and thirst-quenching, tasty.
Mathieu Doumenge Report 27/05/21 - www.terredevins.com - Primeur
Rating of 15.75 & 91-92
The nose is fruity and delivers some greediness, richness (about mastery), smoothness and a low power accompanying a slight concentration. There are some notes of fleshy blackcurrants, also some notes of mashed blackberries and, to a lesser extent, some flavours of cherries associated with hints of violet, dark mashed berries, lily aromas, tobacco, some subtle note of star anise and finally some of chocolate. The mouth is marked by the fruit and provides juiciness, freshness, sweetness (about mastery), a slight length and a controlled final. On the palate the wine unveils some fleshy blackberry notes, brilliant blackcurrant and, to a lesser extent, some notes of blueberries associated with wild raspberries, small mashed red berries, Tonka beans, blond tobacco, cardamom, cloves, flowers and finally a hint of fresh almonds. Good length in the mouth.
Primeurs Tastings – Vert de Vin

Score 90-92


"Opaque purple-black colored, the 2020 Fougas Maldoror (a blend of 75% Merlot and 25% Cabernet Sauvignon) leaps from the glass with vivacious blackberries, black cherries and raspberry scents, followed by hints dried mint and black olives. The elegantly styled, medium-bodied palate has a great intensity of crunchy black fruits with bright red berry sparks and a grainy texture leading to a nice, long and refreshing finish. An absolutely delicious, well-priced claret, it also happens to be certified organic and biodynamic. One to stock up on! "
Lisa Perrotti- dégustation Primeur - www.robertparker.com
Château Fougas Maldoror 2019
Gold Medal :

Concours de Bordeaux 2020
Tastings

Score 92 & 16/20


The nose is fruity and offers a small intensity. It reveals notes of juicy/pulpy cassis, wild strawberry, small notes of blueberry associated with fine touches of violet, crushed blueberry as well as fine hints of nutmeg. The palate is fruity, well-balanced and offers a good definition, gourmandize, juiciness as well as a small concentration. On the palate this wine expresses notes of juicy cassis, blackberry, small notes of raspberry associated with small touches of blueberry as well as hints of violet, nutmeg and tobacco. Good length.
Vertdevin- June 2020

Score 93
The bouquet of 2019 initially displays an inviting floral character revealing nuances of lime blossom and chamomile. Also appear notes of blackberries and graphite followed by a fine touch of aging through chocolate. Fresh and slightly creamy character on the palate. The wine has ample but tight tannins that are in tune with the freshness of the acid structure. The wine has tone and a beautiful aromatic intensity, from the attack to the finish. It is certainly one of the best Fougas that I have ever tasted... with the 2016. These two are leading the marathon head to head...
Yves Beck - Nov 2021
Château Fougas Maldoror 2018
Gold medals:

Médaille d'Or Concours de Macon 2019

Médaille d'Or Concours expression Bio
Tastings :

FR Château Fougas Maldoror Côtes Bourg, rouge, 2018, biodynamie - Parmi les châteaux bordelais sur lesquels il faut miser ce domaine des côtes de Bourg offre tous les ans, une profonde concentration d'identité bordelaise matinée d'une douceur associée à l'énergie de la pratique biodynamique. Vin vivant et tanins vibrants, densité et persistance : c'est une vraie affaire.
Coup de cœur de Karine Valentin - les Echos Weekend – 02/09/22

EN Château Fougas Maldoror 2018 Côtes de Bourg Rouge, Biodynamic - « Among the Bordeaux Châteaux to bet on, Château Fougas (Côtes de Bourg) offers every year a deep concentration of Bordeaux identity associated to sweetness and the energy of biodynamic practice. Lively wine and vibrant tannins, density and persistence: this is real business. »
Favorite from Karine Valentin - Les Echos Weekend 02/09/22
Score 92
Each year the bouquet of Fougas Maldoror surprises me with its ability to reveal freshness. It is also relevant in the way it reveals its authentic fruity notes. In addition, the bouquet of 2018 reveals chalky nuances. On the palate the wine is straightforward, precise, fresh and perfectly balanced. It is like the nose: relevant, and stands out from a lot of 2018 by its tension and balance. A fresh, fine wine suitable for spending time in the cellar. 2024-2040
Yves Beck - Nov 2021

Score 93


" A juicy and shiny nose with a smoky hint, nuanced by sweet spices; the tannin builds this luminous wine marked by a deep oak. "
La Revue des Vins de France « Dossier spécial Biodynamie » (Febr 2021)
Score 90


The deep garnet-purple colored 2018 Fougas Maldoror reveals notions of baked raspberries, blueberry pie and dried mulberries with hints of tapenade and balsamic. Full, rich and plushly textured, the ripe fruit has appealing sparks of freshness, and it _nishes earthy.
Lisa Perrotti Brown-Robert Parker Wine Advocat
Score 92


"Very pretty fruit to this with cherry, redcurrant and orange-peel aromas and flavors. Full-bodied with round tannins and a creamy-textured finish. Polished, round mouth feel. Nicely done. 75% merlot and 25% cabernet sauvignon. From biodynamically grown grapes with Demeter certification. Drink in 2023 and onwards." -
James SUCKLING - www.Jamessuckling.com
Rating 91


The wine is full-bodied, and deep, letting the ripe plum, blackberry and earth sing out. Rich, sweet and fleshy, there is freshness in the end, giving the fruit its much-needed lift -
Jeff LEVE The Wine Cellar insider
EN

A nice braised and toasted appearance appears on the nose to give the wine its silky and velvety "high" character. Its consistency in the mouth highlights both structural and delicious potential, which surrounds the maturity of the grape. A cuvée which will flourish as it ages.



FR

« Un bel aspect braisé et toasté se présente au nez pour conférer au vin son caractère « élevé » soyeux et velouté. Sa consistance en bouche met en évidence un potentiel tant structurel que gourmand, qui entoure la maturité du raisin. Une cuvée qui s'épanouira au fur et à mesure de son vieillissement. »
Concours Expression des Vignerons bio Nouvelle Aquitaine -
Rating 15/20


The potential of the terroir begins to break through in sharp vintages like 2018, and we feel the value of the rump combining sands, clays, gravels and molasses. This cuvée requires a few more months to gather its fruit in an already delicious flesh.
La Revue des Vins de France « Tour de France des vins Plaisir » (June, july August 2020 Page 91)
The wines: a magnificent 2018. The wood is still present, but the fruit is very balanced, energetic and tense, with hints of sweet spices, paprika. We feel the particular presence of the "Terroir" in the finale. You can wait until this one delivers its tertiary nuances, or lead it to this savory and lively fruit. "Forces de Vie" is very original but also tight in 2017. A superb note of blackcurrant energizes the bouquet of the 2018, tasted during aging, held by warm notes of cacao, vigorous freshness on the palate and succulent tannins.
Château Fougas Forces de Vie 2017 and 2018 The favorite Château Fougas Maldoror 2018 Le GUIDE des MEILLEURS VINS de FRANCE 2021
Rating 90


What a beautiful fruity intensity in the bouquet of Fougas. It is marked by notes of raspberries, liquorice and nuances of coffee. Beautiful reflection of the olfactory characteristics on the palate. The wine is charming, inviting, balanced and already well accessible. Now - 2027 - Merlot, Cabernet.
Yves BECK tasted 2020/11/16
Château Fougas Maldoror 2017
Gold medal :

Médaille d'Or Concours de Bordeaux 2018
Tasting :

Score 90


The Maldoror 2017 from Château Fougas offers attractive red cherry, crusted strawberry and orange zest aroma on what you might call a "playful" nose. The palate is medium-bodied with supple tannins. A little oak needs to subsume but there is a lowely silky finish and quite a persistent after taste. A modern style Côtes de Bourg on that is well crafted.
Neal MARTIN – Febr.2020
Score 91


"Vibrant nose, pleasant fresh fruit, smoke, spices. Full and round mouth, a beautiful tannic frame with juice and structure. The tannins tighten a little in the final but the time will round the whole. A very beautiful vintage. A sure value »
Anthocyanes (Notation Primeurs 2017
Score 88




Tasting Primeurs 2017

- James Suckling
Rating 91


"Very open nose, wonderful fruits, black cherries, blackberries, floral notes, very good complexity. crunchy attack lively, fresh and with an excellent fruity, very good structure, spicy and very fine tannin red fruit notes, the acidity is important, but keeps the fresh wine very successful and with great potential. » 2021-2030 -
vvWine.ch - Adrien van Velsen (Notation Primeurs 2017)
Rating 90-91 (15.25+)


"The nose is fruity, a bit tight and offers a fine delicacy as well as intensity. There are notes of blackberry, raspberry, pepper Timut and fine touches of blackcurrant, currant jelly associated with subtle tips of toasted, sweet spices and a discreet tip of flowers (in the background ) and subtle vanilla tips (in the background). The palate is fruity, balanced, finely straight / linear and offers tension, roundness, fat, good definition / structure, precision as well as a fine juiciness and fresh / juicy fruit. On the palate this wine expresses notes of blackcurrant, black cherry and slightly more blackberry associated with touches of juicy red berries, zan, spices and subtle tips of toasted, coffee and vanilla. The tannins are well led and slightly grainy on the finish. Good length ".
The Wine Green - J Chouckroun Chichportiche. (Notation Primeurs 2017)
Rating 15-15.5/20


EN Château Fougas Maldoror, the Côtes de Bourg classic, signed a fruitful 2017. The nose is luscious and intense. Here, the quality of the powdery tannins and the wine envelope stand out. This Maldoror is pure delicacy.



FR

Château Fougas "Maldoror, le classique des Côtes de Bourg a signé un 2017 tout en fruit. Le nez est pulpeux et intense. Ici se distinguent la qualité des tannins poudrés et l'enveloppe du vin. Ce Maldoror est une pure gourmandise.
La Revue des vins de France- Spécial Millésime 2017 - Juin 2018 -
Château Fougas Maldoror 2016
Gold medal :

Competition "Expression Wine growers Bio of New Aquitaine 2017"
Concours de Macon 2019
Tasting :

Rating 92
Lots of freshness and subtlety in this bouquet. It reveals itself slowly, precisely. It reveals nuances of cherries and blackberries followed by spicy and minty notes. On the palate the wine has brightness, freshness and density. It is young, with powerful tannins, revealing itself slowly, and requiring time. It deserves it and you have to wait for it or decant it! 2022-2036
Yves Beck - Nov 2021

"Hot flint notes and spices recall the youth of the vintage. The charm of the wine opens in the mouth with the generosity of an opulent and full-bodied tannin that frames sensations of ripe fruit, prune and fresh leather. Its finish is graceful and balanced."
Competition "Expression Wine growers Bio of New Aquitaine 2017"
Score 90


"Deep nose of black berries with a touch of mint and licorice, the dense and powerful mouth ends on the eucalyptus."
BETTANE and DESSEAUVE
Score 89


"A juicy wine with a pretty core of fruit and firm tannins. Medium body, fresh acidity and a juicy finish. Delicate for a barrel sample."
James SUCKLING
Score 88


"Ruby dark fruits, some spices, anise nose, blueberries. Fresh acidity, ripe tannins, blueberries, spices, anise, bit woody finish."
My wines and More - Christer BYKLUM
Score 16+/20


"Very dry end but very sappy and exciting start even if it falls off a little on the end. You have to admire the ambition! And it's very obviously not a St-Émilion. Actually tastes more like a leftbank wine."
Drink 2021-2026 - Jancis ROBINSON
Score 16-17/20


"A slightly herbaceous nose, elegant, iris, a little reduced too. Juicy, flavourful, tasty for a mouth full of density in elegance and sweetness. Massive and perfectly executed."
GAULT & MILLAU
Score 89


"Floral, with red and dark cherry, plum and licorice on the nose. The wine is medium/full bodied, fresh, earthy and bright".
The Wine Cellar Insider
Punkte 92


"Eine recht intensive Kirschfrucht und leicht aldehydige Noten. Weich am Gaumen, sandiges Tannin, ausgewogen und adrett – ohne besonderen Tiefgang, aber solide und in seinem mittelgewichtigen Stil recht klassisch. Erscheint durchaus bewertbar, die leichten Oxidations zeichen verschwinden im Glas. Dennoch mit leichtem Vorbehalt."
Weinverstand - Ulrich SAUTTER
Score 90


"A slightly herbaceous nose, elegant, iris, a little reduced too. Juicy, flavourful, tasty for a mouth full of density in elegance and sweetness. A massive and perfectly executed coast. Real guard potential"
Falstaff (Futures Tasting April 2017) - Peter MOSER
Score 17/20

L'EXPRESS Supplement - 7 June 2017
Score 16.5/20


"Garnet dress with a nice nose of a great frankness. The wine is very elegant kept by a fine merlot of great finesse, the wine has charm, the tannins are light and fine. A beautiful success in a delicate and refined style. This wine of great regularity was elaborated with 95% of merlot and 5% of cabernet –sauvignon."
Primeurs Vintage 2016 - Bernard BURTSCHY
"Château Fougas Maldoror in biodynamics reveals aromas of peony and a mouth summoning blueberries and exquisite cocoa notes. One of the great successes of the appellation Côtes de Bourg."
International Sommeliers - Summer 2017
…"Auf dem rechten Ufer gegenüber dem Médoc, 4.000 Hektar groß, hat sich gemausert, nicht zuletzt dank der biodynamischen Betriebe. Ganz oben steht ChâteauFougas im großartigen Jahrgang2016. Maldoror ist schon wunderbar zu genießen mit feinster Würze, Frucht,Frische und Länge. Geben Sie dem hervorragenden"
Weinwirtschaft 9/2019
Château Fougas Maldoror 2015
Gold medals :

Gilbert and Gaillard Guide – Tasting 2017

International wine challenge 2018
Heart stroke :

review of the wines of France 2018
Tasting :

Rating 92
Expressive, inviting, measured and very pure bouquet! Subtle hints of cherries. On the palate the wine is supple, elegant and well held by melted tannins. A sapid and full-bodied wine with a freshness on the finish. Now – 2030
Yves Beck - Nov 2021

Score 88


"Deep robe, young garnet. Heady, grilled woody nose with fresh fruit (blackcurrant, raspberry) and flowers. Flexible mouth, with the tender, seductive material, which lets the fruit flow pleasantly. Final more tannic showing good potential."
Gilbert and Gaillard Guide - Tasting 2017 https://fr.gilbertgaillard.com/chateau-fougasmaldoror-vin-221954
Score 16/20


"This wine of great regularity consists of a pretty balanced field with a tight dense wine, beautifully made. A beautiful success. 3 to 8 years."
Le Figaro of wine - Bernard BURTSCHY
Score 89


"Ruby, dark fruits, some spices, blueberries nose. Fresh acidity, ripe tannins, fruity, dark berries, spices, juicy, woody finish."
B My Bordeaux - Christer BYKLUM
"Trotz kräftigen Holzeinsatzes zunächst reduktiv. Dunkle Schokolade. Mit Luft Kirsche und Grüntee. Seidig und saftig am Gaumen, nicht im Übermaß weich, mit reifem, mürbem Tannin und würzigen, ganz leicht Paprika-artigen Gaumenaromen. Appetitlich ausgewogen, salzig mit gut integrierter, milder Säure."
Weinverstand - Ulrich SAUTTER
Score 88


The Winepatriot -

Antoon LAURENT
Punkte 89-91


"Tiefdunkles Rubingranat, opaker Kern, violette Reflexe, zarte Randaufhellung, zart balsamisch unterlegte Nuancen von Dörrzwetschken, kandierte Orangenzesten. Mittlerer Körper, frische Kirschen, gut integrierte Tannine, frisch strukturiert, Noten von Zwetschken im Abgang, ein lebendiger Speisenbegleiter."
Falstaff - Peter MOSER - https://www.falstaff.ch/pd/w/chateau-fougas-2015-chateau-fougas-maldoror/
"Of the wealth but absolutely no heaviness. Ultrapromising !"
EXPRESS - Pierrick JÉGU - 20 September 2017
"Follower of the biodynamie, Jean-Yves Béchet made of his property one of the references in Côtes de Bourg. To make the most of his vineyard, he distributes the fruit between three vintages of increasing ambition. Good named "Maldoror" represents the heart of its production and gives the example of an accomplished wine and without ostentation. This wine doubles his refinement by a delicious nature and a dynamics of expression in his measure."
La feuille de vigne, www.lafdv.fr - Mohamed BOUDELLAL - 12 December 2017
Score 90
"The burnt-orange and plum aromas are enticing. The medium to full body gives the firm and silky tannins a nice balance. Tight and focused. Give it two years to come together. Drink in 2020."
JamesSuckling.com
More